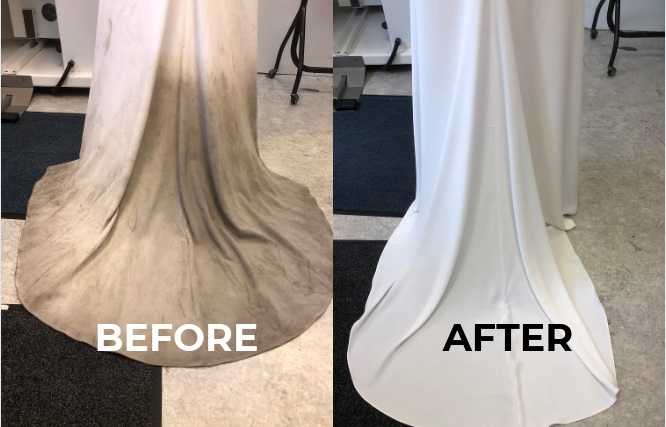 "I do" want a clean wedding dress
Tying the knot, getting hitched, call it what you want but getting married is expensive.
In fact, the average cost of a UK wedding is at an all time high – standing at a whopping £27,000!
While the average cost of the venue, food and reception come out as the top drain on the finances, the all important wedding dress is still a significant cost.
But having spent all that money on "the dress" many brides just dump them in the loft the next day.
That's complete with the dirt from the trail across the floor for 13 hours, the red wine gravy from the second course and the beer from the hug from Uncle Ray as the disco played its last.
Dresses are carefully put together by experts using the most delicate fabrics to ensure you look your best on the day.
Care attention to the dress is of the utmost importance if you're to ensure it lasts past the second anniversary
That's where we come in! We are experts in ensuring stains are delicately removed, tears are lovingly repaired and your dress is restored to the way it was the first time you saw it. Our processes are 100 per cent chemical free which means they're kind to your dress and to the environment, something we pride ourselves on.
The dress pictured (see above) was brought into us in a shocking state, but we managed to get it back to its original dazzling white!
Put simply if you're looking for someone who makes wedding dresses as good as new – we do!
---
Related Post
---